15.00 EUR
Unlock iPhone O2 / Tesco United Kingdom
Phone: APPLE iPhone 5C
Delivery time: from 3d to 21d (10d in most cases)
Our customers rated this service at 4.72/5

This is factory, permanent unlocking for iPhones 2G / 3G / 3GS / 4 / 4S / 5 / 5s / 5c / 6 / 6+ / 6s / 6s+ / SE / 7 / 7+ / 8 / 8+ / X / Xr / Xs / Xs max / 11 / 11 Pro / 11 Pro Max max locked in O2 / Tesco United Kingdom. Only CLEAN Imeis supported.
Unlocking is based on the IMEI number.
TERMS & CONDITIONS. Please read before you order:
NO REFUNDS when BLACKLISTED iPhone ordered - only CLEAN imeis supported - CHECK BLACKLIST HERE
NO REFUNDS if the phone is locked to other operator than O2 or Tesco United Kingdom - check here if you are not sure - CHECK OPERATOR HERE
NO REFUNDS when the phone is locked by ICLOUD and you don't know login & pass - we can unlock but can't remove ICLOUD - CHECK ICLOUD STATUS HERE
You can check your IMEI number by typing *#06#
All other necessary information can be found below (questions and answers)
Only if you Accept the above
↑
and below
↓
Service Terms & Conditions feel free to Make an order
See how to enter code for the model you choose...
Frequently Asked Questions - please read:

How long it will take to complete my order?
Waiting time for this service is from 3 to 21 working days. This is usually about 10 working days. The waiting time for orders placed on weekends / holidays will be counted from the nearest Monday (or the next business day after Christmas).
What exactly will i get after the order is completed?
You will get a comfirmation that your iPhone is unlocked. It is usually "UNLOCKED. CONNECT TO ITUNES". iPhones are not locked by codes.
How to unlock iPhone after the order is completed?
Turn on your iPhone with unsupported sim card
On a computer with Internet access, install and then run iTunes application
Connect your phone to your computer via USB
After detecting device,iTunes will start the unlock process which will last from several seconds to a few minutes (depending on the speed of Internet connection)
The process will end with the message "unlock is successful" - or another depending on the language and the version of iTunes.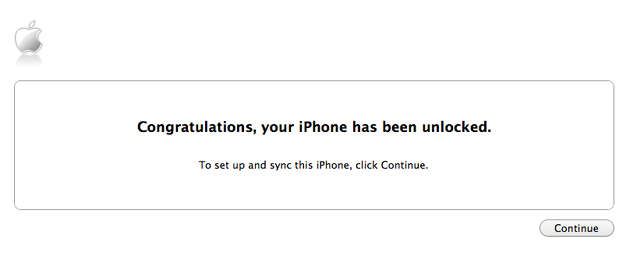 Sometimes, in order to synchronize simply turn on the phone wi-fi and wait several seconds (up to several minutes).
If the methods described below do not give the result you will have to restore your iPhone to the default settings.
Will i be able to use my iPhone with any sim card after unlocking process is completed?
Yes, you will be able to use any sim card in your iPhone.
Will unlocking remove also iCloud (Find my iPhone) in my iPhone?
No! Unlocking and iCloud are to different things! We can't remove iCloud - we can only unlock your iPhone.
Can I

cancel my order

once it is

paid and

in process

?
No. Most of our services are performed automatically immediately after receiving the payment so we can not cancel the order if it is already in process.
My order is completed but after connecting to iTunes my iPhone is still locked. What to do?
Please send us an e-mail with your order number. We will verify your order. In this e-mail please attach your iPhone checking operator which you can order here - if the result of checking shows that the phone is still locked we will pay the costs of checking report and we will verify the IMEI (it will be process again for unlock).
We provide one year warranty for iPhone unlocking (the time is counted from the date of compliting your order). After this time we will not be able to help.
What does those messages mean: "No code at supplier" and "Payment cancelled" ?
"No code at supplier" - Unfortunately there was no code for this imei in database. The transaction will be cancelled and you will get refund in 2-3 working days.
"Payment cancelled" - We could not unlock your phone, the money has been refunded to the account from which the payment was made. It usually takes 1-3 working days.
I paid through Paypal and the status of my order is "in the verification." What to do?
If the email address you provided when registering is different from your Paypal ID you will get from us an automatic e-mail with a link (sent to paypal e-mail), in which you must click to complete the payment process - the status of your order will then be changed to "paid." Sometimes e-mail from us goes to spam / junk folder - please check. If you do not get such e-mail, please contact us, we will check payment and change order status "manually".
Comments (139):
2021-02-19

lesmakeit

(rated Awesome (5)):
phone unlocked within 5 days excellent service
2020-09-07

mulambotinashe

(rated Awesome (5)):
i loved the speed
2020-07-02

alexrinc

(rated Awesome (5)):
Reliable service, I recommend
2020-05-07

Tombo22485

(rated Awesome (5)):
Worked perfectly, Thank you
2020-04-27

crpb1730

(rated Awesome (5)):
Great thanks very much. [Good communications as to status] All seems fine and dandy!
2020-02-18

arialx

(rated Awesome (5)):
Ultra Fast!
2019-11-22

BlackEvill

(rated Awesome (5)):
Naprawde szybki czas realizacji - 2 dni 100% sprawne i działające odblokowanie
2019-10-16

SpynkeByte

(rated Awesome (5)):
Szybko, bez problemu. Duży plus
2019-05-29

Michellej

(rated Awesome (5)):
Fantastic, quick service. Deff will recommend
2019-05-07

dexter310878

(rated Awesome (5)):
Wszystko poszło dobrze, czas oczekiwania niestety jest za długi, w komisie oferowali mi od 1 do 3 dni roboczych na usunięcie, ale koszt był 45zł większy
More