9.00 EUR
Unlock via codes: HUAWEI modems
Delivery time: from 10m to 2d (5h in most cases)
Our customers rated this service at 4.77/5

This service is generating unlock codes for Huawei modems / routers.
Unlock codes are generated based on IMEI number.
Important. Please read before you order:
IMPORTANT: Before placing an order, please check if it is possible to enter a code on your device - instructions below! No refunds when no such a possibility.
You can check your IMEI number by typing *#06#
All other necessary information can be found below (questions and answers)
Frequently Asked Questions - please read:

How long it will take to complete my order?
Waiting time for this service is from 10 minutes hour to 24 hours. This is usually a few hours. The waiting time for orders placed on weekends / holidays will be counted from the nearest Monday (or the next business day after Christmas).
What exactly will i get after the order is completed?
That will be 3 codes (v1,v2 i v3) - one of them will be correct.
How to enter the code on the modem / router?
Install your device software on PC -

it usually installs automatically when you plug in your modem or download an application

Mobile Partner,
Connect your device to PC with a non working SIM card - then the software should ask to enter an unlock code (you will see a field to enter digits),

Enter one of the unlock codes we sent you (enter the first code and if it does not work 2nd one and 3rd one) and confirm.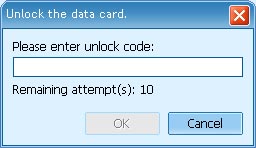 The second way to enter the code is to use the "Huawei code writer" to download here.
Can I

cancel my order

once it is

paid and

in process

?
Most of our services are performed automatically immediately after receiving the payment so we can not cancel the order if it is already in process. If you make a mistake, of course, please contact us. We will try to cancel or change the data.
What does those messages mean: "No code at supplier" and "Payment cancelled" ?
"No code at supplier" - Unfortunately there was no code for this imei in database. The transaction will be cancelled and you will get refund in 2-3 working days.
"Payment cancelled" - We could not unlock your phone, the money has been refunded to the account from which the payment was made. It usually takes 1-3 working days.
The codes are not working, what to do?
Please contact us for verify or possible assistance. If this not helps we will ask you to make a movie (video, can be made by a phone) on which we will be able to see:
1. The moment of generating imei number by typing *#06#
2. The moment of entering the code
We will send this movie to supplier and will give your money back (the transaction will be cancelled in 2-3 working days).
Strictly no refunds when:
Wrong service chosen or there is wrong IMEI submitted
There is no possibility to enter the code - check it before making an order.
Each user has 30 days (from the date of compltting the order) for filing a complaint.
I paid through Paypal and the status of my order is "in the verification." What to do?
If the email address you provided when registering is different from your Paypal ID you will get from us an automatic e-mail with a link (sent to paypal e-mail), in which you must click to complete the payment process - the status of your order will then be changed to "paid." Sometimes e-mail from us goes to spam / junk folder - please check. If you do not get such e-mail, please contact us, we will check payment and change order status "manually".
Comments (199):
2022-05-10

darekk5

(rated Awesome (5)):
Jak zawsze rewelacja..
2020-07-03

pepezielarz

(rated Awesome (5)):
ok
2020-02-15

Mustava

(rated Very good (4)):
All OK, drugi z kodów zadzaiałał Dzięki.
2020-02-09

SCRsim

(rated Awesome (5)):
Szybko i sprawnie. Wszystko działa jak należy.
2019-08-19

andrzej999

(rated Awesome (5)):
polecam kdy odblokowały modem huawei 3251 link jestem zadowolony pozdrawiam
2019-07-24

kornass

(rated Awesome (5)):
Kody otrzymałem po kilkunastu minutach. Kod uwolnił mój router z orange :-)
2019-07-23

MODEM

(rated Very good (4)):
Obsługa logistyczna-poprawna. Procedura unlock bezbolesna jak się czyta ze zrozumieniem. Mnie się udało odblokować pomimo pootwieranych dużej liczby okien i bez zrozumienia.
2019-06-21

worand

(rated Awesome (5)):
Zero problemów.
2019-06-06

LucBesson

(rated Awesome (5)):
Used for Huawei USB GSM dongle. Delivers exactly what they promised - the second of the 3 codes worked perfectly. I am very happy.
2019-02-20

carlo44

(rated Awesome (5)):
Działał drugi kod, dzięki serdeczne!
More